Holiday Challenge
Decathlon
December 18, 2021 to January 4, 2022
You asked for it... the virtual event is back! Whether you are in Quebec or outside the province, share your sports activities with us and the Pentathlon des neiges Facebook community!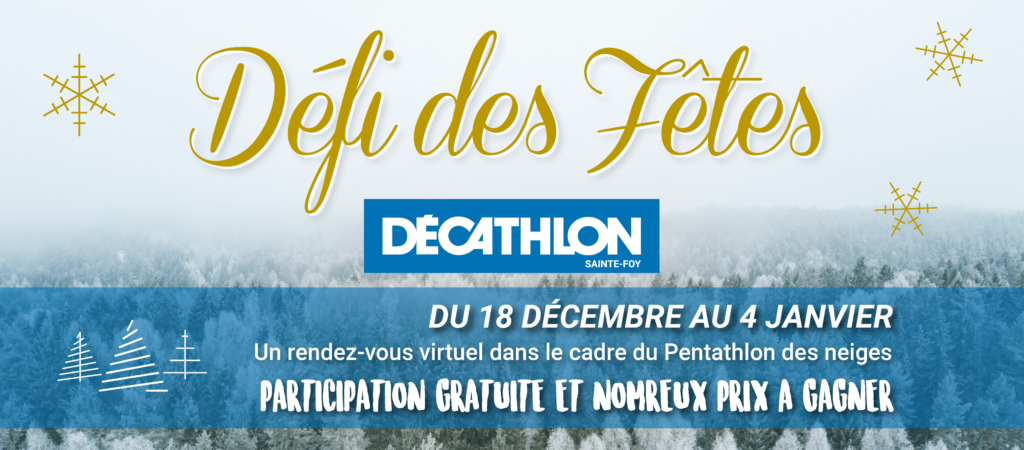 Presentation of challenge
Nothing like it to keep you active and motivated in anticipation of the event in February on the Plains of Abraham. As always, creativity is key! Tell us about your solo, couple or family outings, practicing one or more of the Pentathlon sports.
Throughout the holiday challenge, we will be watching your publications with interest. The ones that stand out the most in the categories below will have a chance to win a $100 gift card.
Categories
Most Creative Workout
Greatest Achievement
Funniest workout
Best workout together
Once the holiday challenge is over, a $100 gift card will be awarded to the best publication in each of these categories.
Because the most important thing is to participate, we will randomly offer up to ten (10) $50 gift cards per day to people who have shared tips, videos and workouts on the group!
How to participate?
Share tips, suggestions, sports activities with family, friends, solo, in the form of texts, photos, videos. Please note that gift cards must be claimed at the Décathlon Sainte-Foy store, with proof of identity.
Join us now for the holiday challenge on the Facebook group "Pentathlon des neiges en mode virtuel"!
To consult the rules, click here.
Directory of practice locations
DIRECTORY OF PRACTICE LOCATIONS – Ice skating
DIRECTORY OF PRACTICE LOCATIONS – Cross-Country Ski
DIRECTORY OF PRACTICE LOCATIONS – Snowshoe
Note: This directory is a non-exhaustive list of practice sites. It is an informative document intended to provide Decathlon Holiday Challenge participants with tools.