ABOUT US
Learn more about our organization.
MISSION
Pentathlon Group is a non-profit organization whose mission is to develop innovative, unifying and high-impact sports events that provide emotions and enriching experiences
ACHIEVEMENTS
The Pentathlon des neiges has come a long way since its first edition in 2005. Jean-Charles Ouellet's retreat project, which brought together a few dozen participants at Lac-Beauport, has become a must-attend event in the Quebec City area.
In 2008, Best New Event in Canada, a title awarded by the Canadian Sport Tourism Alliance;
Unique event legacy of Quebec City's 400th anniversary festivities;
Since 2010, the largest outdoor winter event in Canada in terms of number of participants;
In 2014, presentation of the Quebec ITU Winter Triathlon World Premiere. Thanks to the development efforts of the Pentathlon Group, a new sport is born! Pentathlon Group continues its efforts to help the international development of the discipline;
In 2014, the Quebec ITU Winter Triathlon was recognized as Discovery Event of the Year by Triathlon Quebec;
In 2014, the Quebec ITU Winter Triathlon received the Coup d'Éclat Award for New Product or Original Activity from Festivals et Événements Québec;
In 2014, Best Winter Race in Eastern Canada, according to the readers of Get Out There Magazine;
In 2015, finalist in the International Event category at the Gala Sports Québec;
In 2015 and 2016, finalist in the Tourist Event or Attraction of the Year category at the Gala des Fidéides of the Québec City Chamber of Commerce and Industry.
In 2017, the Pentathlon is also a finalist in the new category Event of the Year at the Gala des Fidéides, in addition to breaking its own registration record, year after year.
In 2019, the Pentathlon celebrates its 15th anniversary!
In 2020, the Pentathlon breaks its own record of participation again, with 6,156 participants.
SOCIAL CONTRIBUTION
"À L'ÉCOLE, MOI J'BOUGE"
A contribution to the "À L'ÉCOLE, MOI J'BOUGE" project under the supervision of the Réseau du sport étudiant du Québec – Québec-Chaudière-Appalaches (RSEQ-QCA), which gives thousands of young elementary and secondary school students the opportunity to get moving as part of extracurricular activities. In 2020, $30,108 was given to the "À L'ÉCOLE, MOI J'BOUGE" program. This money will allow hundreds of young people from families in need to register and participate in extracurricular activities.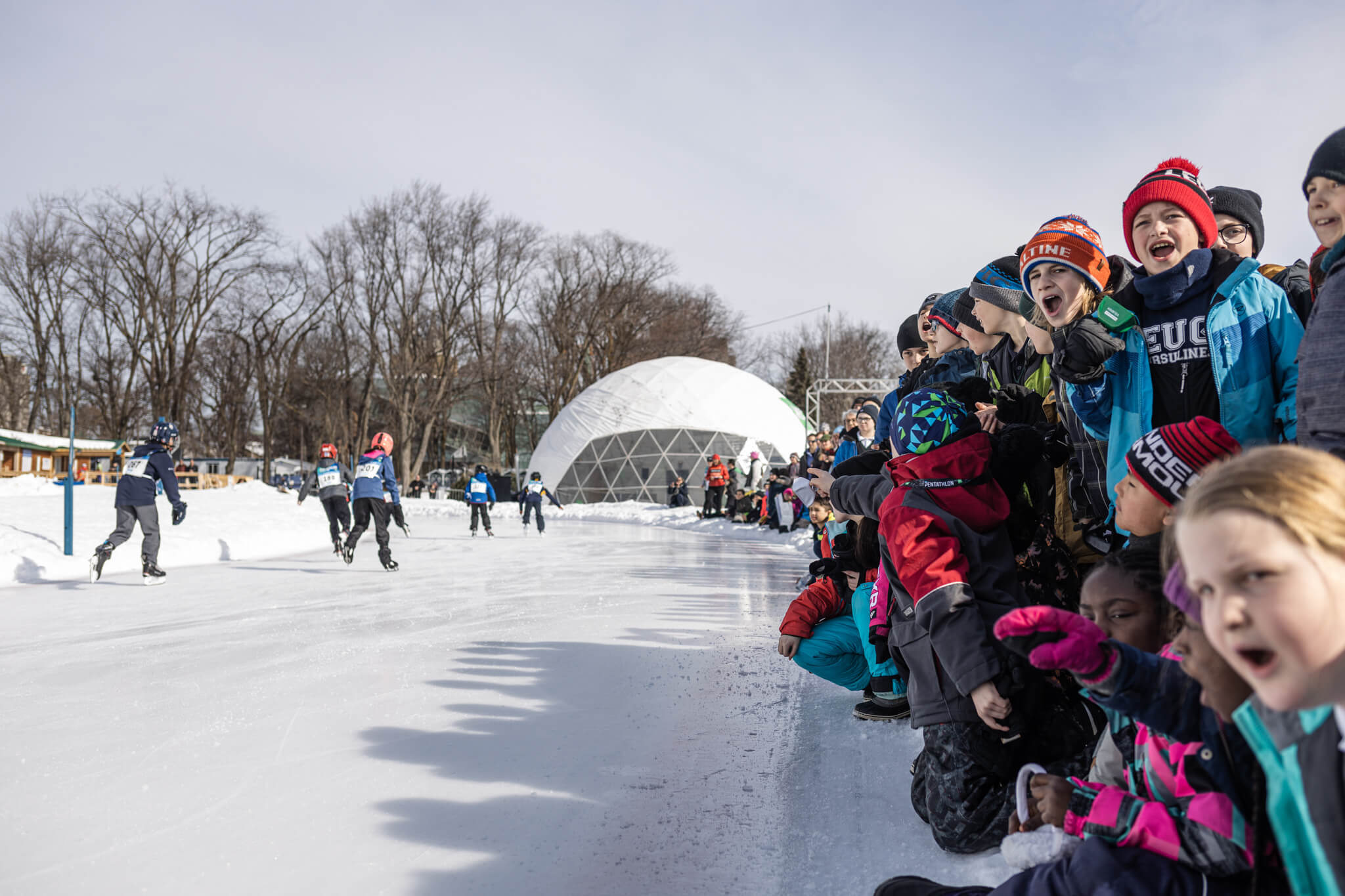 Establishment of a 400-meter refrigerated ice ring accessible to all free of charge
The hosting of the Pentathlon des neiges and the Quebec ITU Winter Triathlon helps justify the establishment of a Quebec City infrastructure, a 400-metre refrigerated ice ring overlooking the St. Lawrence River, accessible free of charge to the public and tourists during the winter months.
Questions?
We have answers! Check out our frequently asked questions, the answer is probably there.
Join the family!
Become a volunteer and actively participate in the success of this unique winter challenge.